Why Smartest KYC?
The banking and finance sector was highly affected by the covid-19 pandemic. Customers were no longer able to visit the establishment to receive financial services, and as a result,  a demand for a digital KYC was created in the industry to overcome the crisis. Being a leading tech firm in the market, Tech Venturas identified this need and introduced a revolutionary Smartest KYC solution. 
Smartest KYC is a "Software As A Service" (SaaS) platform that uses artificial intelligence to digitalize the KYC process. It is meticulously designed in such a way, considering data privacy and security, while seamlessly integrating with external software systems such as CRM, ERP, Risk & AML, FCM, etc.
Smartest KYC is the pinnacle of incorporating AI technology into KYC screening processes.
With our Smartest KYC solution, you will be able to capture information about your customers effortlessly. Combining artificial intelligence, linguistic and cultural sensitivity, and deep domain knowledge, Smartest KYC has become one of the most revolutionary and innovative KYC products introduced in the market.
Key Features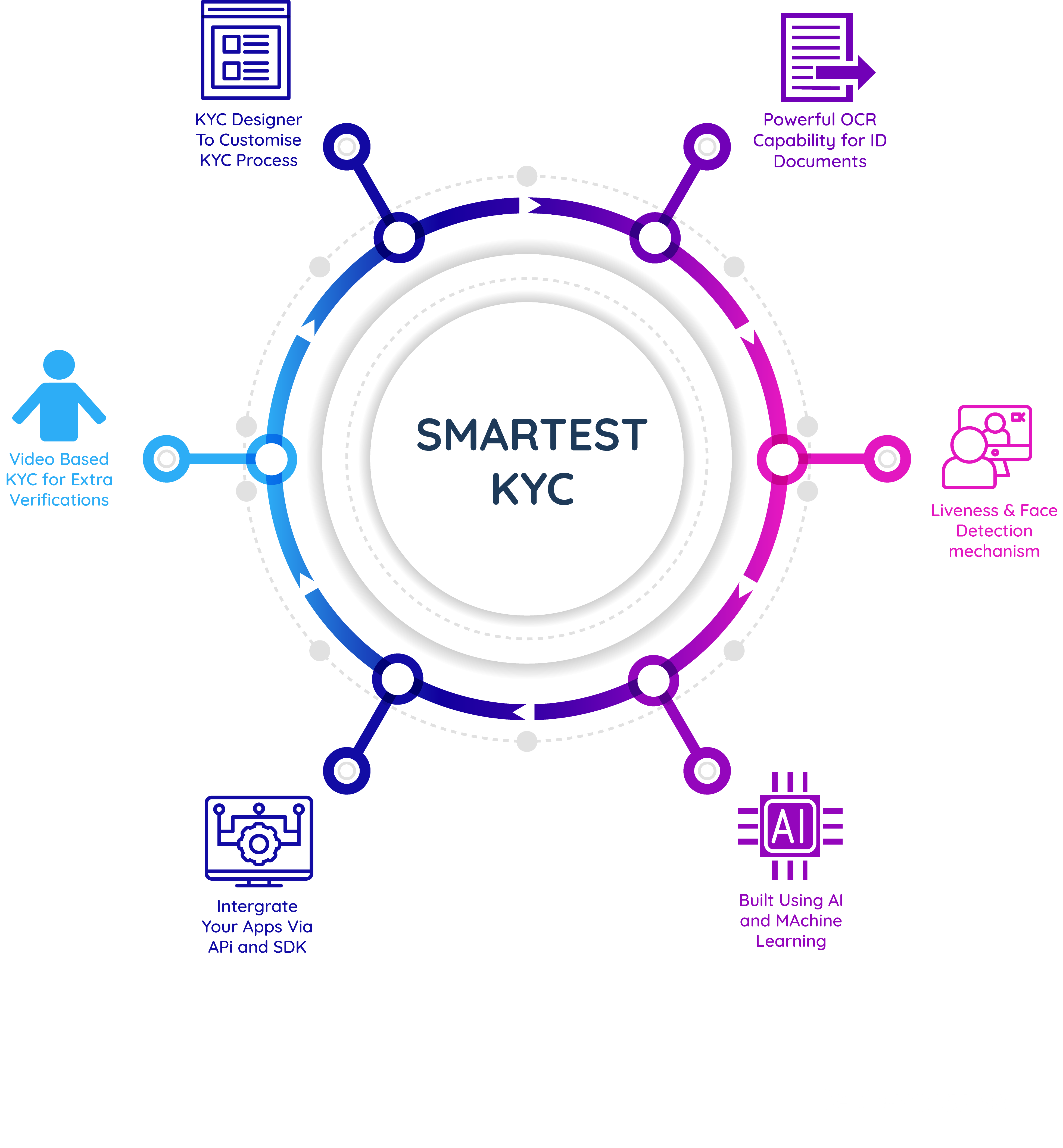 KYC Designer
KYC designer enables users to design their own digital KYC experience for their customers. With its simple graphical interface companies can design as many KYC designs, store drafts of designs and update, publish and maintain them. .
OCR and Face recognition
We use ML and AI components to extract information and images from identity documents and compare faces with "selfie" images. Our OCR is multilingual. We have been able to achieve the highest OCR accuracy through our proprietary OCR technologies .
Intelligent Liveness detection
The smartest KYC is built using AI and ML and has fully customisable AI-driven liveness detection features. It can identify predefined liveliness gestures. It also possesses a video selfie option which makes it even more convenient..
Video KYC
Our Smartest KYC equips with an agent-driven video KYC feature that contains a video KYC calendar, scheduled video call requests and ability to record entire KYC sessions which makes it even more compelling. .
API SDK & Connectors based Integrations
Integration with your existing applications using our API, SDK and connectors is easy. Every KYC published will automatically generate an API. The SDK can be used to build your own integrations. Readymade connectors are available from the Smartest KYC connector store for many known platforms..
Cloud-based management console
The fully cloud-based Management Console of Smartest KYC allows administrators and customers to work from anywhere in the world using a web browser. This is compatible with many modern web browsers and offers many convenient features..
Sector Wise Use Cases

BFSI & FinTechs
It is essential for traditional BFSIs and FinTechs that offer NeoBanking services to comply with KYC regulatory requirements. This process is used to perform with the traditional KYC methods. But with the digital transformation of banking, banks are now updating their KYC systems to be virtual. Our continued research on regulatory requirements of the KYC processes in different geographies enables SmartestKYC to have a variety of intelligent features beyond its borders.

Telecommunication
Telcos are reinventing themselves and offering new services such as cashless mobile money solutions using their mobile network. This institutes the requirements of complying with regulatory KYC requirements. And with the financial damage caused by telecom fraud being on the rise the need for KYC in the telecoms has become more critical. The smartest KYC solution offers a sector-agnostic, fully customisable KYC process, that can be designed by the end-user himself.

Public Sector
Public sector organisations increasingly interact with individuals through e-government services. This is becoming a global trend and many governments around the world are now building their digitisation roadmaps, onboarding individuals to consume government e-service requires a process of KYC to validate and authenticate. The smartest KYC solution is an ideal fit for this as it could handle any type of KYC process designed by government agencies for multiple purposes.