We are Tech Venturas; a global systems integrator operating from Kenya, Australia and Sri Lanka that focuses on creating digitally inclusive economies. We heavily invest our expertise  in the development of future-proof, economically inclusive and socially empowering digital solutions for our clients.
At Tech Venturas, we enjoy working closely with SMEs, and large enterprises by designing and developing digital systems according to their envisioned outcomes. We create further benefits for our clients through our extensive expertise and all-encompassing API-first and code-first strategies.  
Our scalable, interoperable, and future-proof solutions are built using open source and AI & ML technologies, enabling the true potential of digital transformation by providing product engineering services, enterprise digitalisation services which include solutions such as API management, identity access management and enterprise integration solutions.  
Successful software solutions are based on user-centred design, fluid communication and an intuitive understanding of business rules. Our unmatched technical expertise and customer support facilitate our valued partners every day. We use agile methodologies to create a customer-centric, value-based environment that stands to benefit our clients and stakeholders at the same time. 
Activate your Digital Transformation strategy and unlock new opportunities for your business with our solutions and gain a powerful 'First Mover' advantage.
Diversity and Professionalism is our driving force.
We want to improve lives through cutting-edge technologies and believe that passion, diversity and professionalism are the key driving forces in our culture. Our team members are versatile and  smart professionals who have worked in different geographies and industries with years of experience. 
Our Culture
We embrace diversity and equal opportunity.
At Tech Venturas, we are passionate about improving lives through innovations in technology. We aim to recruit, retain and nurture team members who are versatile professionals and have worked in different geographies and industries. We fill positions in our teams following a rigorous process to identify and recognize technical skills and versatility to fit into our culture.
We know how important it is for our team members to feel satisfied with professional opportunities at Tech Venturas because this in turn impacts productivity and efficiency of our team as a whole. We are determined to provide a supportive and flexible work culture and transform professional careers with the right mix of technology.
Cetficiations & Awards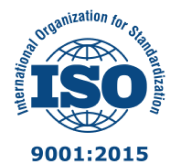 ISO 9001:2015 Quality Management System
We are  ISO 9001:2015 certified.  Tech Venturas is proud to proclaim as a company with an internationally recognised standard that ensures our products and services meet the needs of our customers whilst delivering a consistent level of quality and satisfaction. We have developed and implemented our quality management system, with the sole purpose of improving overall performance and maintaining a high level of quality within our company.